Regular price
Sale price
€8.99
Unit price
per
Sale
Sold out
Scopri la comodità di pagare in 3 comode rate,
seleziona
o
al momento del pagamento.
Delicious spreadable cream with Sicilian Pistachio and Modica Chocolate .

This spreadable cream is added to our "Le Specialità" product line, where Pistachio combines with first choice products to create creations with a unique flavour.
Our spreadable cream with pistachio and chocolate is without preservatives or colourants.
The unmistakable flavor of Pistachio is enhanced by the irresistible taste and crunchy touch of Modica PGI Chocolate.
Inside our jar of Cream, in fact, you can find all the creaminess of the Pistachio spread, together with the delicious crunchy note of the Modica PGI Chocolate chips.

How to use Pistachio and Chocolate Cream?
Sciara's "Le Specialità" Pistachio Cream is ideal for breakfast or as a snack, to be spread on slices of bread, biscuits or pancakes.
Also perfect for filling desserts, cakes and biscuits.
Delicious, practical and spreadable, Crema Sciara is a unique product: artisanal quality, intense and irresistible flavour!

Enjoy our Pistachio and Chocolate Cream by spreading it on bread, biscuits or on your desserts thanks to our practical Spalmino .
Ingredients

White cream [sugar, vegetable oils and fats (sunflower oil, palm oil, palm kernel oil), skimmed MILK powder (10%), whey powder (MILK), emulsifier (sunflower lecithin), flavoring (vanillin)], PISTACHIO 28% , Sicilian PISTACHIO 7%, dark grains based on "Modica Chocolate PGI" (13%).
Pistachio origin: non-EU, Sicily.
Chocolate Origin: Sicily.

Warnings for consumers:
The product may contain shell fragments.

(the allergens present are highlighted in CAPITALS).
Nutritional characteristics

(average values ​​per 100 g): Calories 582 Kcal/2423 KJ, Fats 40 g, Saturated fats 13.5 g, Total carbohydrates 47 g, Sugars from carbohydrates 44.8 g, Fibers 3 g, Proteins 7.3 g, Salt 0.14 g.

*These values ​​are subject to variations according to the production batches and the harvest year. Therefore, product packaging may contain different information than that shown on our site. Please always read the label, warnings and instructions provided on the product before using or consuming it.
Deadline

12 months from the production date.
Keep in a cold and dry place.
The product will keep intact for up to 2 months after opening, provided that the above storage requirements are met.
Any presence of oil on the surface does not constitute an alteration of the product, but a natural process of separation.
Method of use

HOMEMADE SNACKS STUFFED WITH PISTACHIO CREAM AND MODICA CHOCOLATE
Ingredients:
150 g Pistachio Cream and Modica Sciara Chocolate
125 g sugar
125 g flour plus a little
75 g of olive oil
50 g butter plus a little
25g milk
4 g baking powder for desserts
2 eggs
A teaspoon of vanilla extract
Method:
Grease and flour a bottomless square mold and place it on a baking tray lined with baking paper.
Whip the eggs with the sugar with an electric mixer for a few minutes, in order to obtain a clear and frothy mixture. Sift the flour with the baking powder. Mix the milk with the oil. Melt the butter, then let it cool.
Incorporate the oil mixed with the milk, then the sifted flour, finally the melted butter and the vanilla extract into the whipped eggs, mixing delicately with a spoon, until you obtain a creamy mixture. Pour it into the mold and bake at 180°C for about 40'. Take the tile out of the oven, remove it from the mold and let it cool.
Cut the pasta tile in half, horizontally, like a sandwich, then fill it with the Pistachio and Modica Chocolate cream and divide it into 6 equal portions. Complete, as desired, with chopped pistachios and icing sugar.
Share
View full details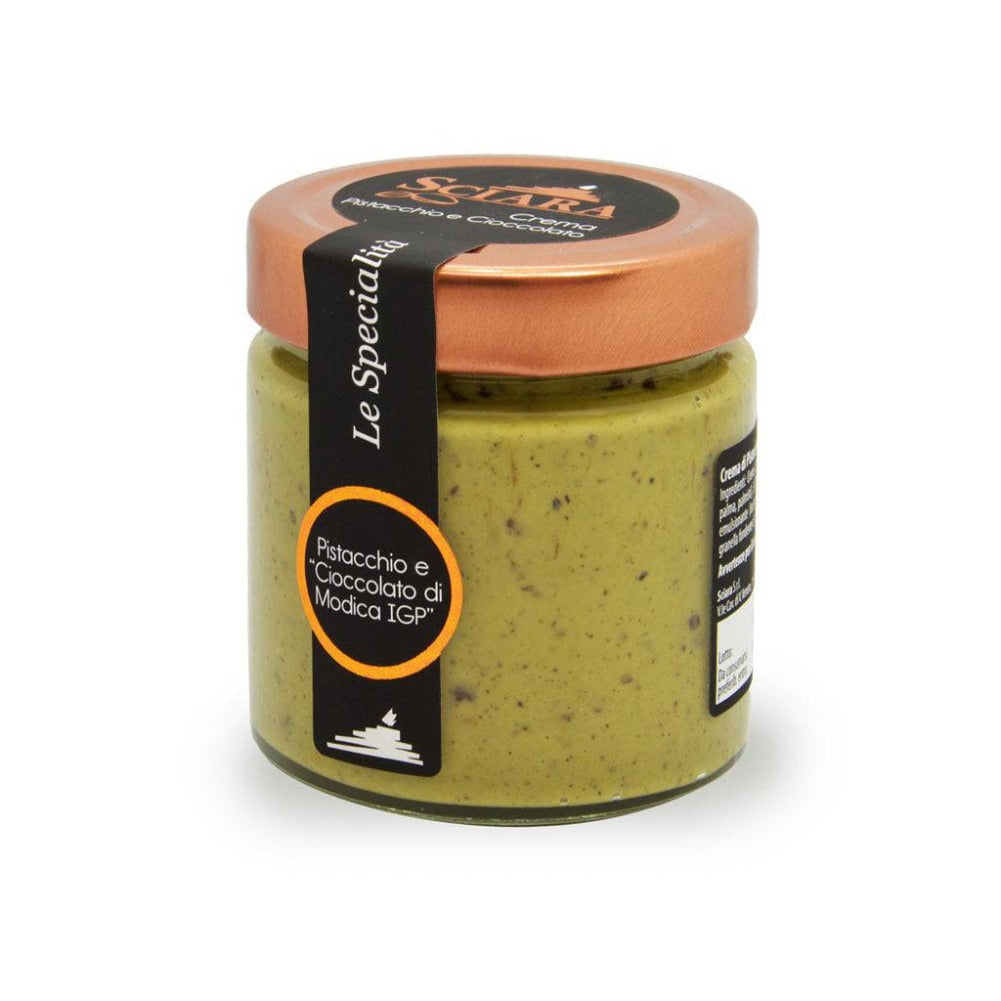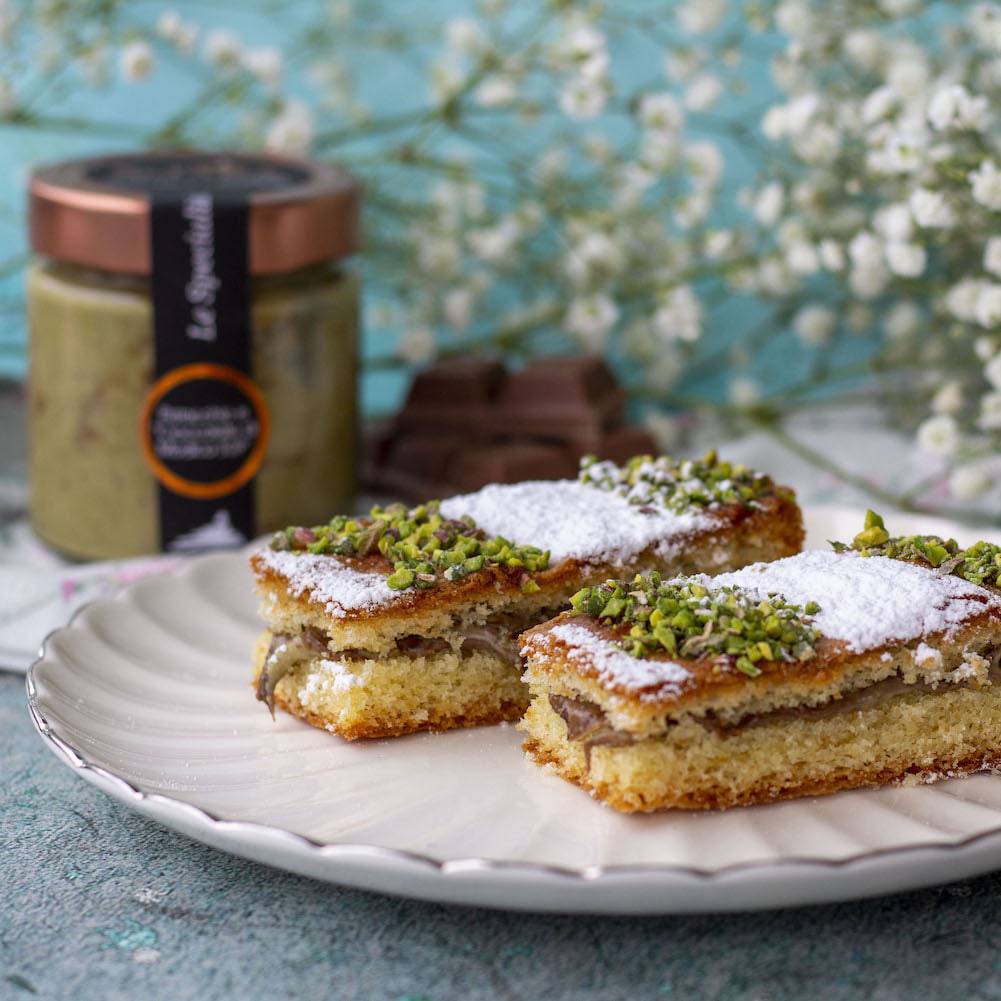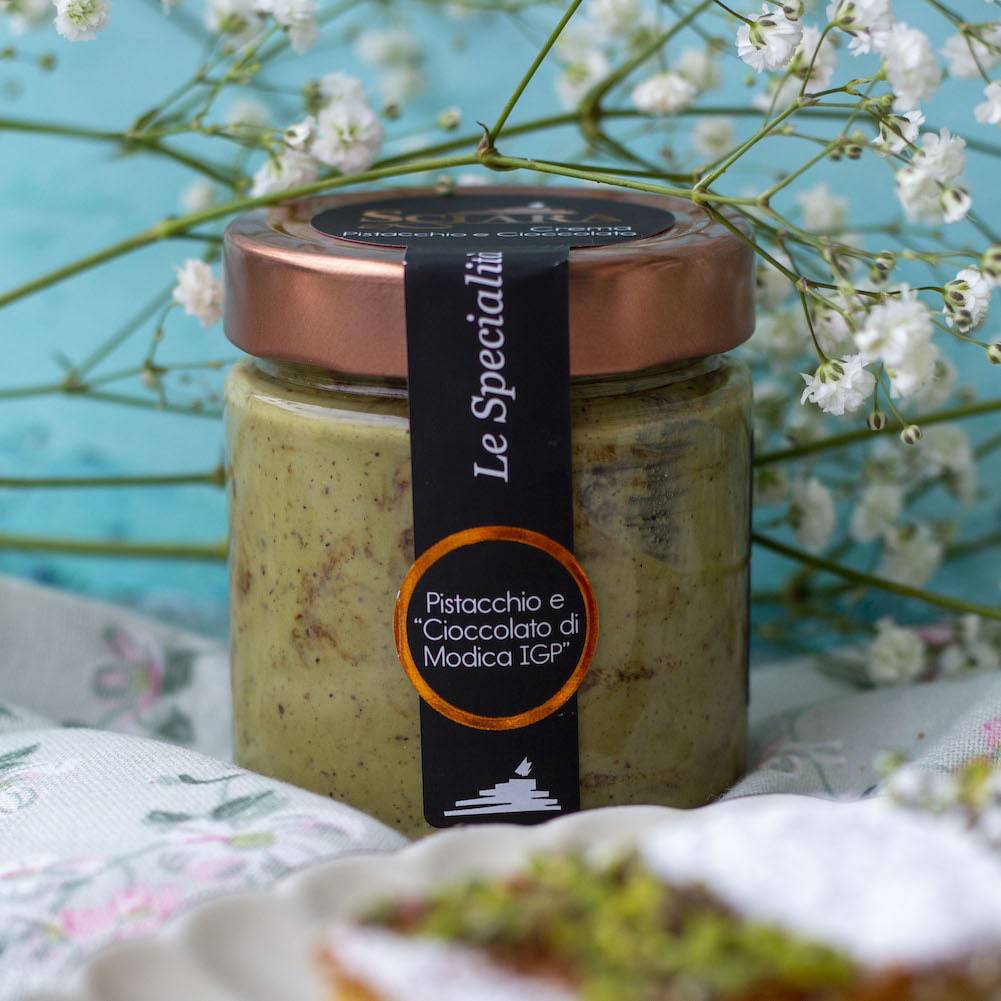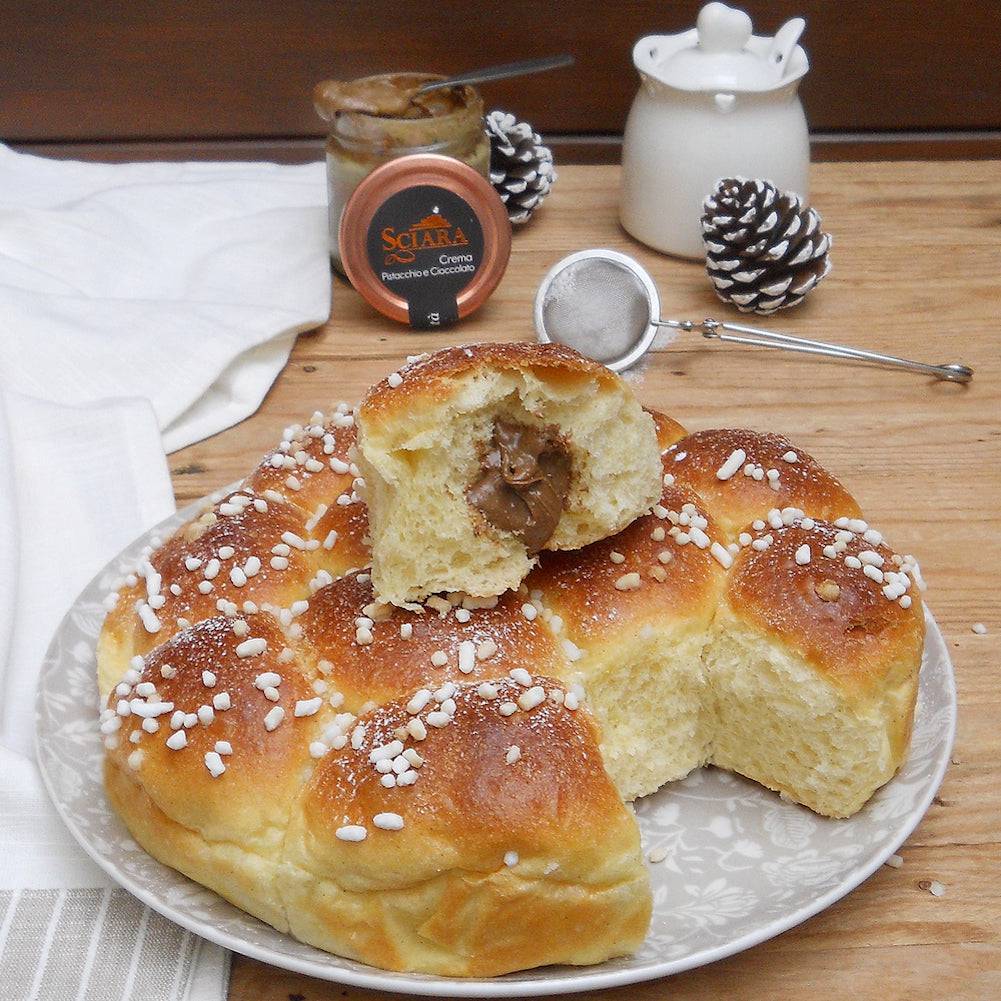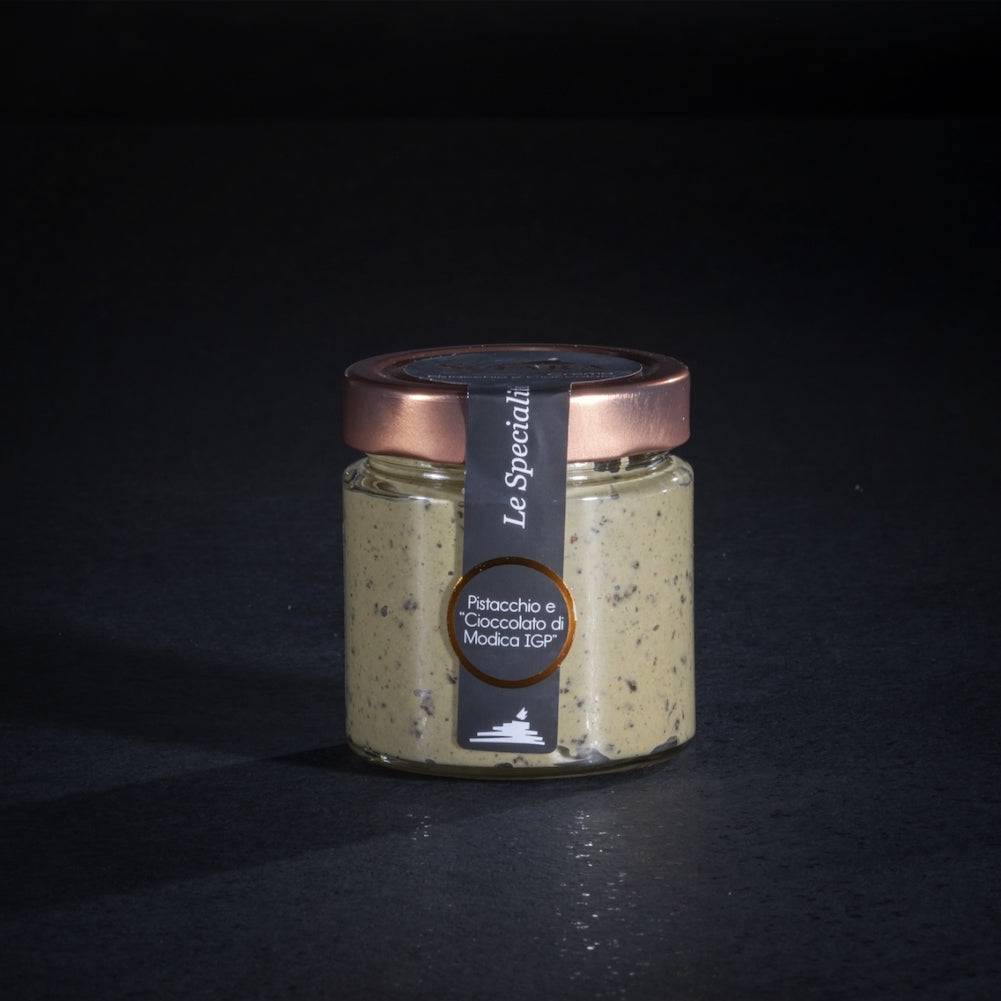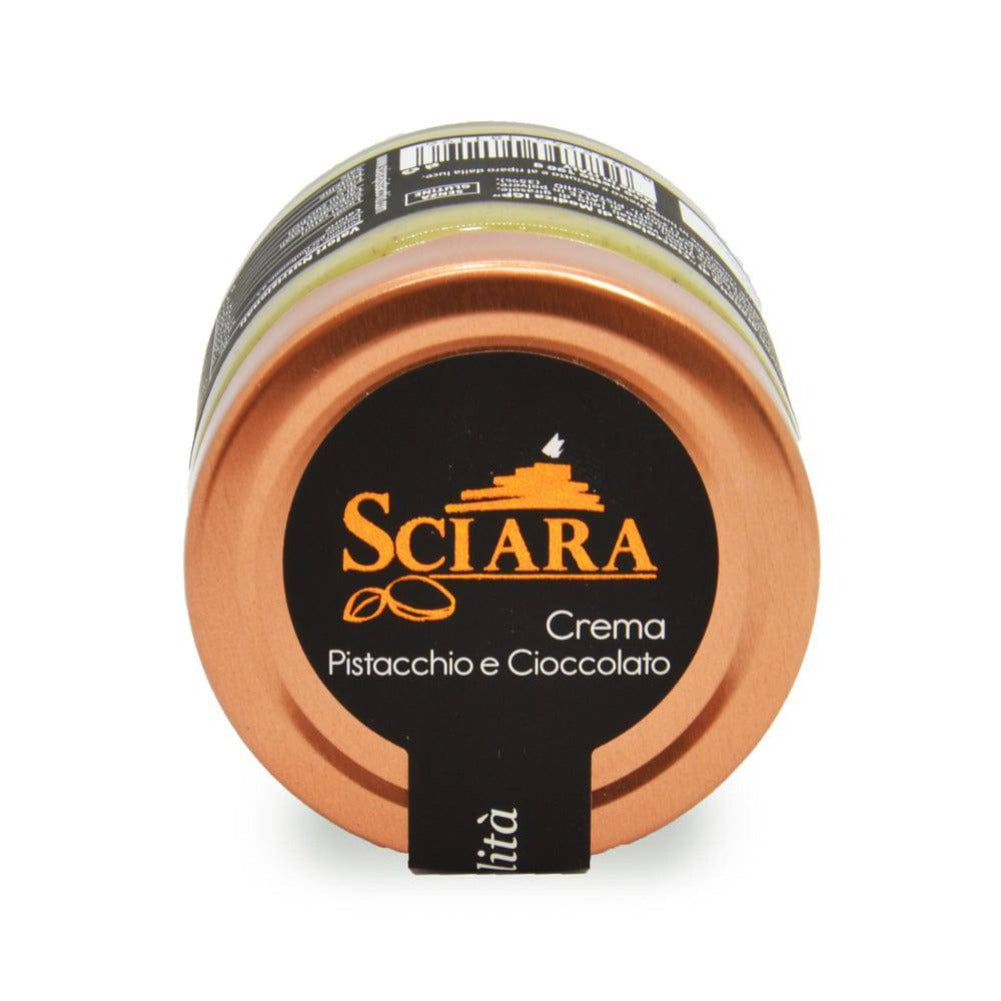 Always the best shipping conditions

Shipping in Italy is free from €39. For smaller expenses, the rate is €5.90. For shipments abroad, the system will propose the best available rates

Never lose sight of your package

Shipping from our warehouse normally takes place within 1-2 days of ordering. Our system will constantly update you, via email or sms, on the status of the delivery

Doubts or problems? We are always there!

For any question or inconvenience, enter your data and your request in the contact form . You will be contacted as soon as possible by our operators