Regular price
Sale price
€10.00
Unit price
per
Sale
Sold out
Scopri la comodità di pagare in 3 comode rate,
seleziona
o
al momento del pagamento.
Base for Pistachio Gelato with only pure Pistachio . Pure Pistachio paste ideal for making homemade ice cream, granitas, semifreddi and fillings for cakes and biscuits.

The Sciara Base for Pistachio Gelato, also known as 100% Pistachio Cream, contains exclusively selected Pistachios and is therefore oil-free, salt-free and sugar-free .
The Pistachios used for our Gelato Base are lightly toasted and then ground so finely as to become a creamy paste, a 100% Pistachio Cream, which encloses all its intense flavour .
A Base for Gelato, many uses
Also known as Pure Pistachio Paste , you can also use our Ice Cream Base to make creams, puddings, granitas and frozen desserts.
Your Pistachio Gelato with Gelatiera will be ready in a few minutes! Just add the milk, fresh cream and sugar to our 100% Pistachio Cream for ice cream.

Thermomix Pistachio Ice Cream is ready in just 7 minutes. Use the Sciara Pistachio Gelato Base, milk, fresh cream, sugar and, if you like, an egg yolk and a pinch of salt to make it even creamier.
Looking for the perfect recipe for Furbo Pistachio Gelato ? It is a Pistachio Ice Cream without an ice cream maker that is easily prepared and for which all you need is electric whisks. Then use Base for Gelato, milk, fresh cream and sugar. A very tasty variant adds vanillin and sambuca to the classic ingredients.
With our Base for Pistachio Gelato, by simply adding sugar and oil, you can also obtain a Pistachio Custard to spread on bread and rusks or to use to fill your desserts.
It is also very easy to prepare the irresistible Sicilian Pistachio Granita . Water, sugar and our Pistachio Base… and that's it!
Discover all the Sciara proposals

If you want to refresh yourself with a Pistachio Granita or a delicious homemade Pistachio Ice Cream, or you want to impress your guests with a delicious Pistachio dessert or semifreddo, just use our 100% Pistachio Cream as an ingredient!
And if you don't have time to look for the ingredients or the recipe to make Pistachio Gelato at home, we have already prepared the ingredients for your Gelato in the Sciara Pistachio Gelato Kit ! Simply mix the contents of the Kit and then put it in the freezer to obtain the best Sicilian Gelato!
Also try our Pistachio cream , ideal for filling desserts and Pistachio grains to decorate your ice creams and pastry preparations.

Convenience format:
- 1 kg pack
Ingredients

100% PISTACHIO.
Pistachio origin: EU/non-EU according to seasonal availability.

Consumer warnings:
The product may contain shell fragments.
- Without milk
- Gluten free

(the allergens present are highlighted in CAPITALS).
Nutritional characteristics

(average values ​​per 100 g)*: Calories 577 Kcal/2414 KJ, Fats 48.4 g, Saturated fats 6.13 g, Carbohydrates 15 g, Sugars 9.7 g, Proteins 20.6 g, Fibers 10.8 g, Salt 0.015 g.

*These values ​​are subject to variations according to the production batches and the harvest year. Therefore, product packaging may contain different information than that shown on our site. Please always read the label, warnings and instructions provided on the product before using or consuming it.
Deadline

24 months from the production date.
Keep the Base for Pistachio Gelato in a cool, dry place.
The product will keep intact for up to 2 months after opening, provided that the above storage requirements are met.
Any presence of oil on the surface does not constitute an alteration of the product, but a natural process of separation.
Method of use

Make sure that the product is homogeneous before each use. If the product has a separation between the solid phase and the oil, this indicates the absence of additives. To mix the product, just use a spatula or a blunt utensil and mix with circular movements, bringing the product from the bottom to the surface. Always start with vertical movements, from top to bottom, then use circular movements until the cream is well blended.

How to make Pistachio Gelato with an ice cream maker: 90g of Base for Pistachio Gelato, 600ml of milk, 250ml of fresh cream, 150g of sugar. Combine the milk, cream and sugar in a small saucepan over low heat and stir until the sugar dissolves. Turn off the heat, add the Pistachio Paste, mix well and let the mixture cool. Once cold put it in the fridge, after 2 hours it will be ready for your ice cream maker.

How to make Pistachio Ice Cream with Thermomix: 90g of 100% Pistachio Cream from Sciara, 300ml of milk, 250ml of fresh cream, 100g of sugar, 1 egg yolk, 1 pinch of salt. Work the yolk, milk, cream, sugar and a pinch of salt at 90 degrees and speed 4 for 7 minutes. Add the 100% Pistachio Cream and mix for half a minute on speed 3. Let the mixture cool. Once cold, put it in the fridge, after 12 hours, before serving, cut the mixture into pieces and mix it at speed 6 for 15 seconds, so that it is creamy.

How to make Furbo Pistachio Gelato: 90g of our Pistachio Paste, 170ml of milk, 400ml of cream, 100g of sugar. Heat the milk slightly, add the sugar and the 100% Pistachio Cream, mix well and leave to cool. If you want, also add a sachet of vanillin and 2 tablespoons of Sambuca which will make the ice cream creamy even if kept in the freezer. Whip the cream well and add the mixture with the Pistachio. Pour the mixture into a container and leave it to rest in the freezer overnight.

How to make the Pistachio Granita: 90g of Base for Pistachio Gelato, 200g of granulated sugar, 800ml of water. In a small saucepan over low heat, prepare a syrup by dissolving the sugar in the water. Turn off the heat and add the Pistachio Paste. Mix and leave to cool to room temperature. Put the mixture in the freezer in a large container, initially taking it out from time to time to break up the ice crystals that are forming. The next day, break the ice, blend it and serve the delicious Sicilian granita.
Share
View full details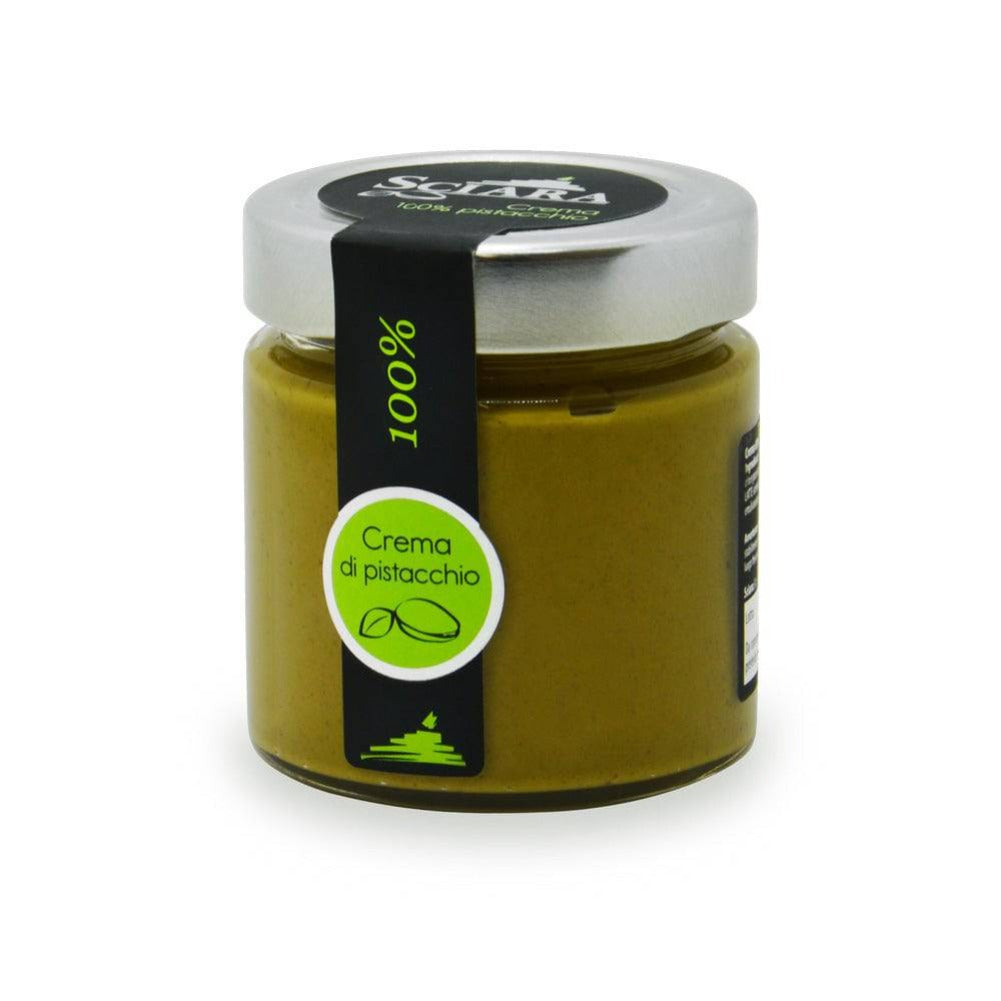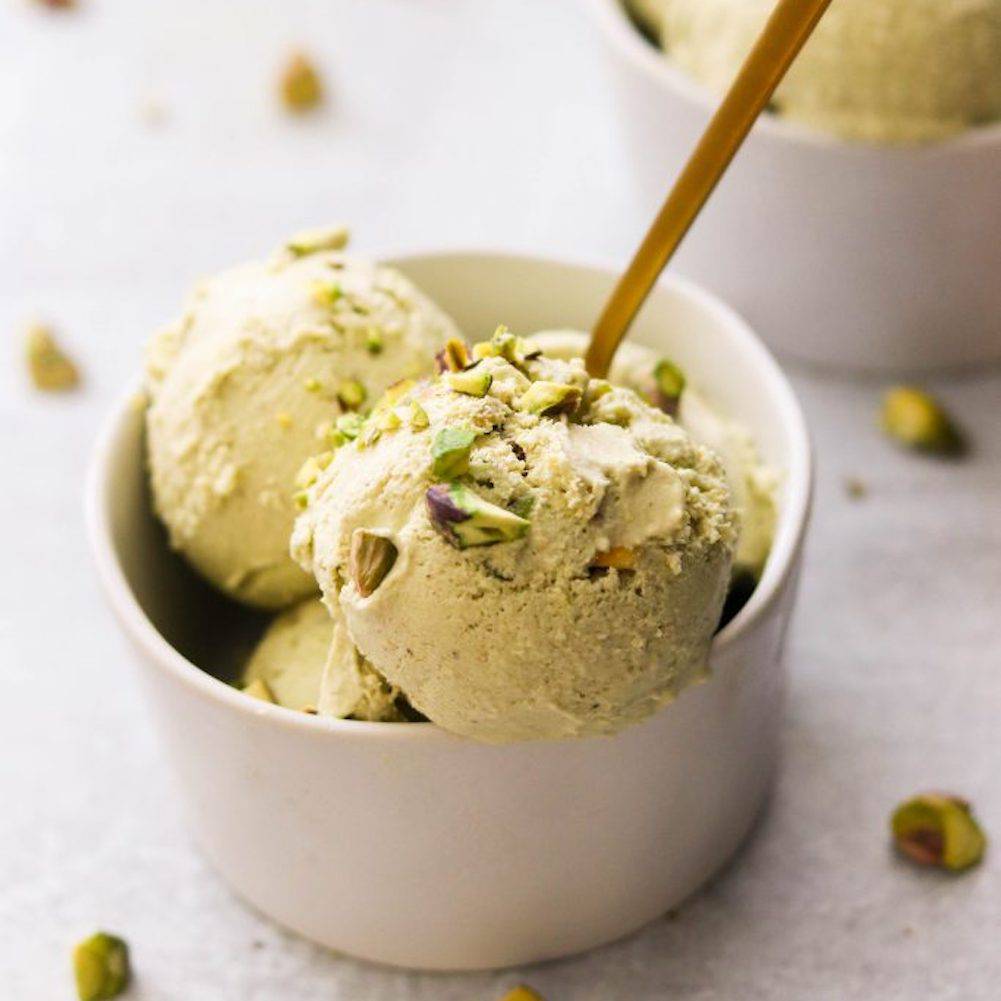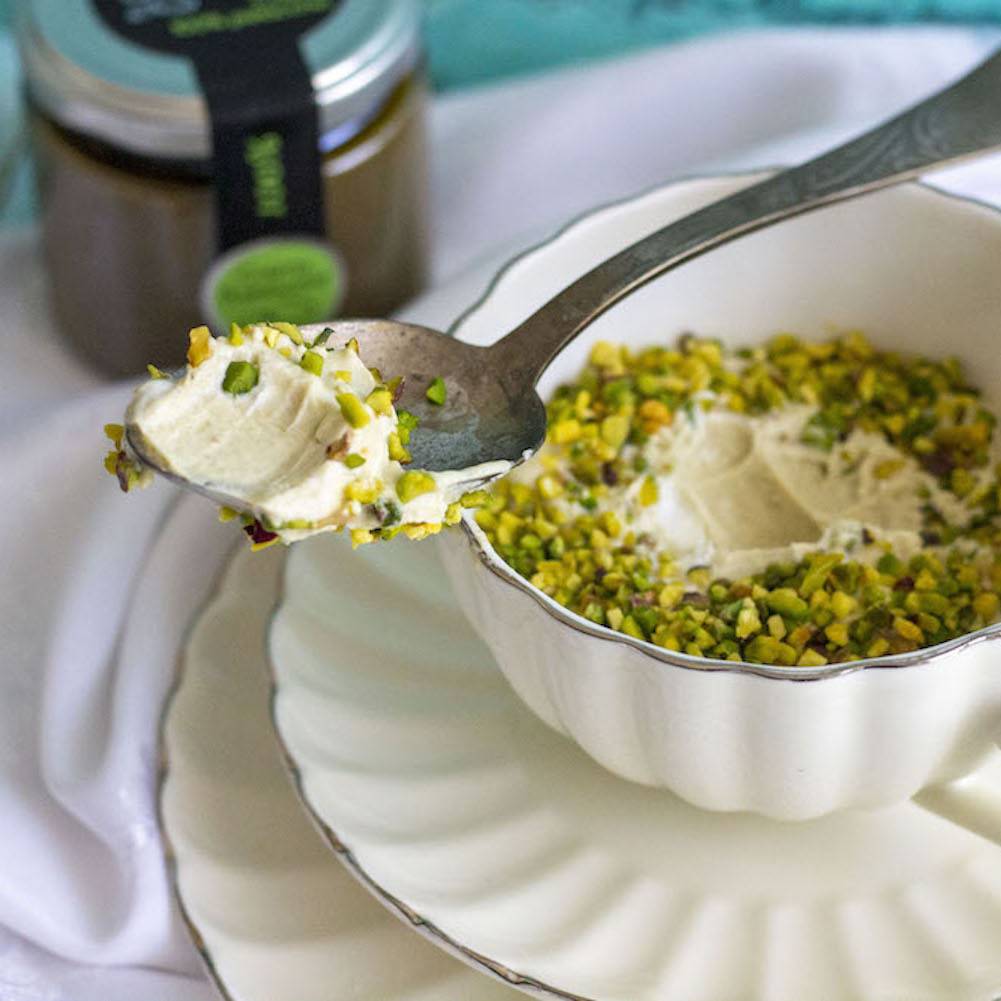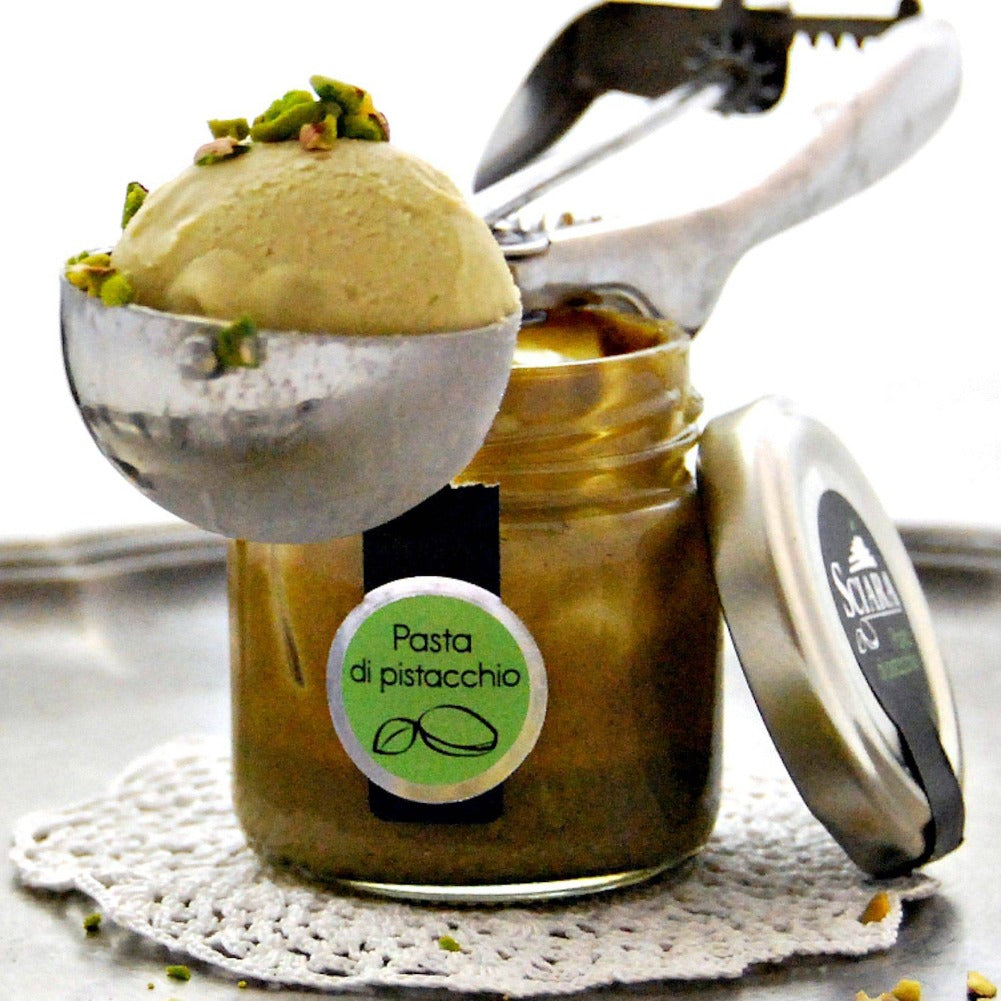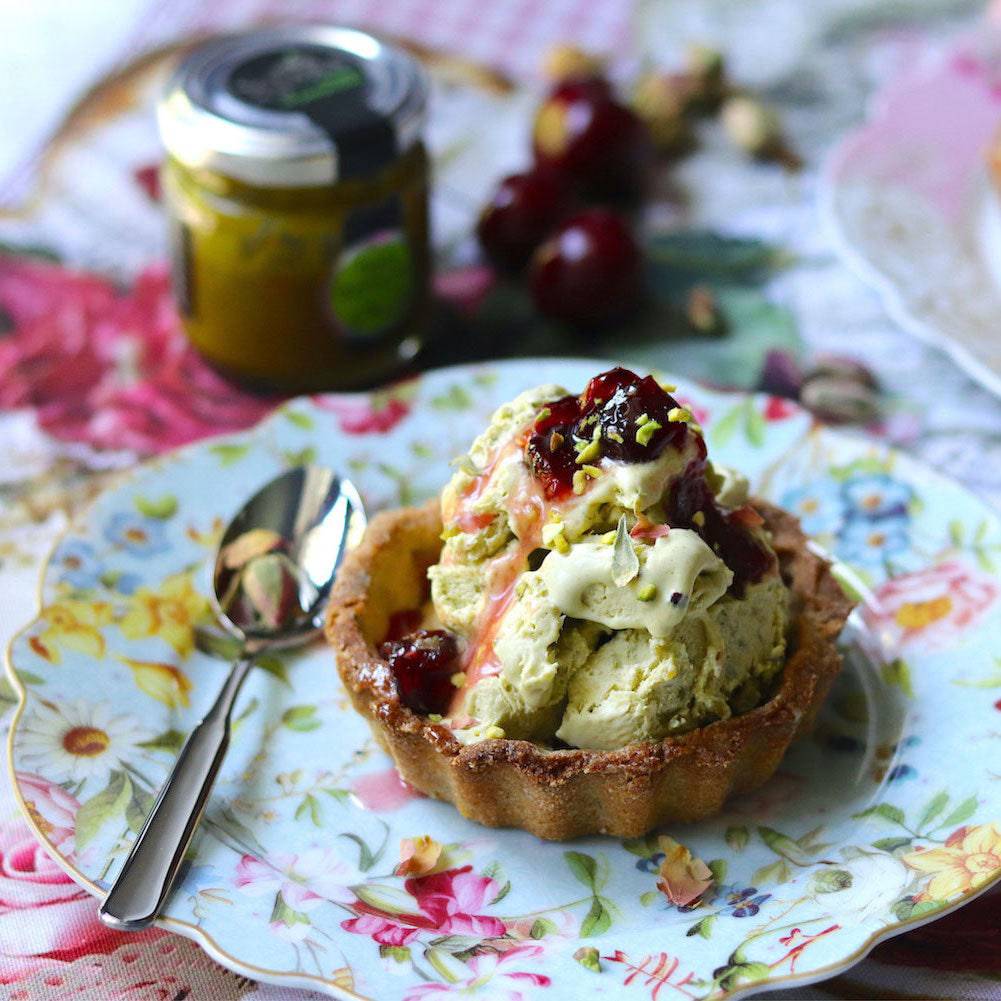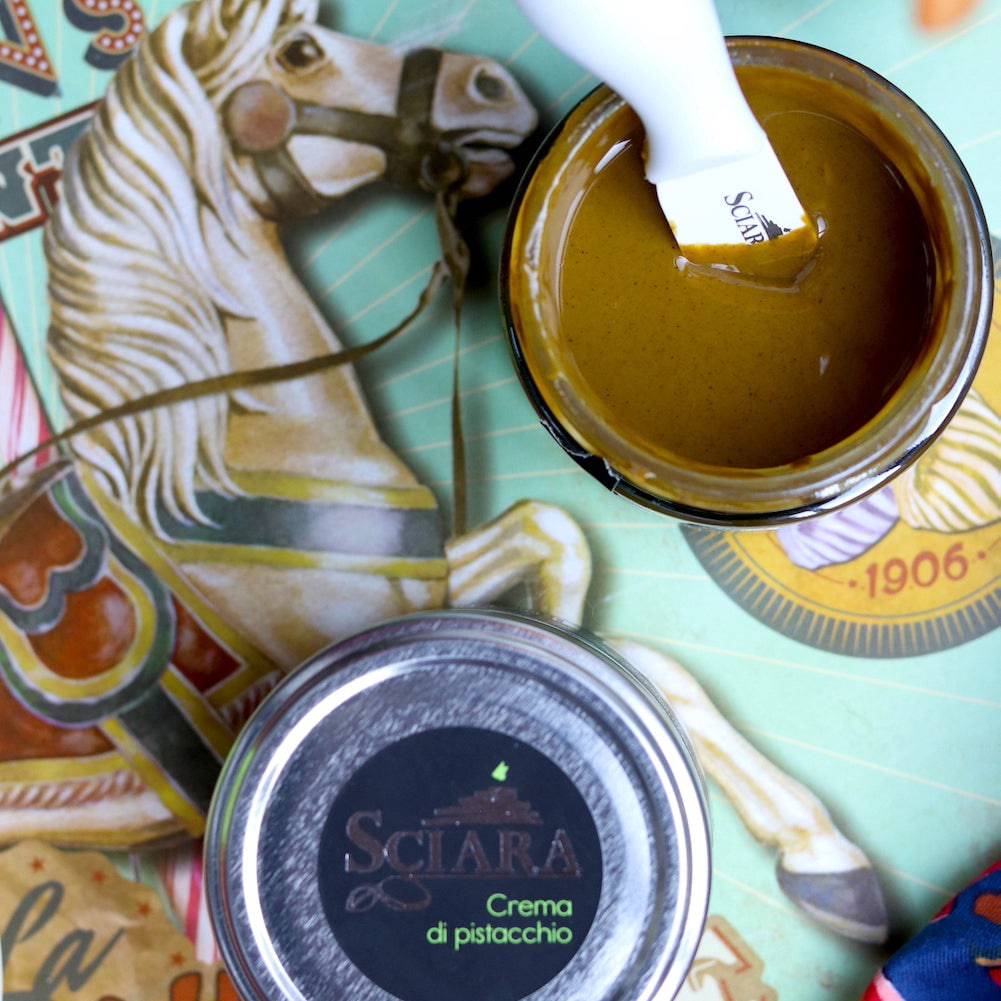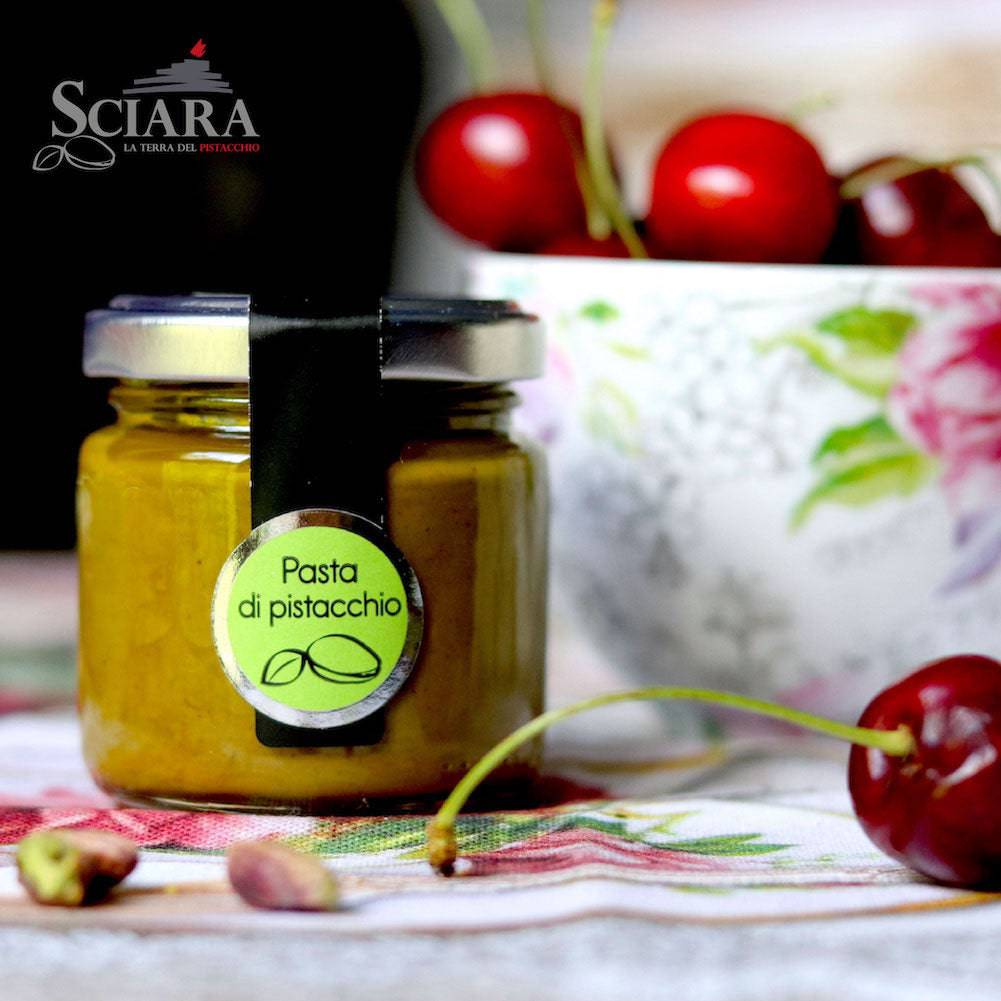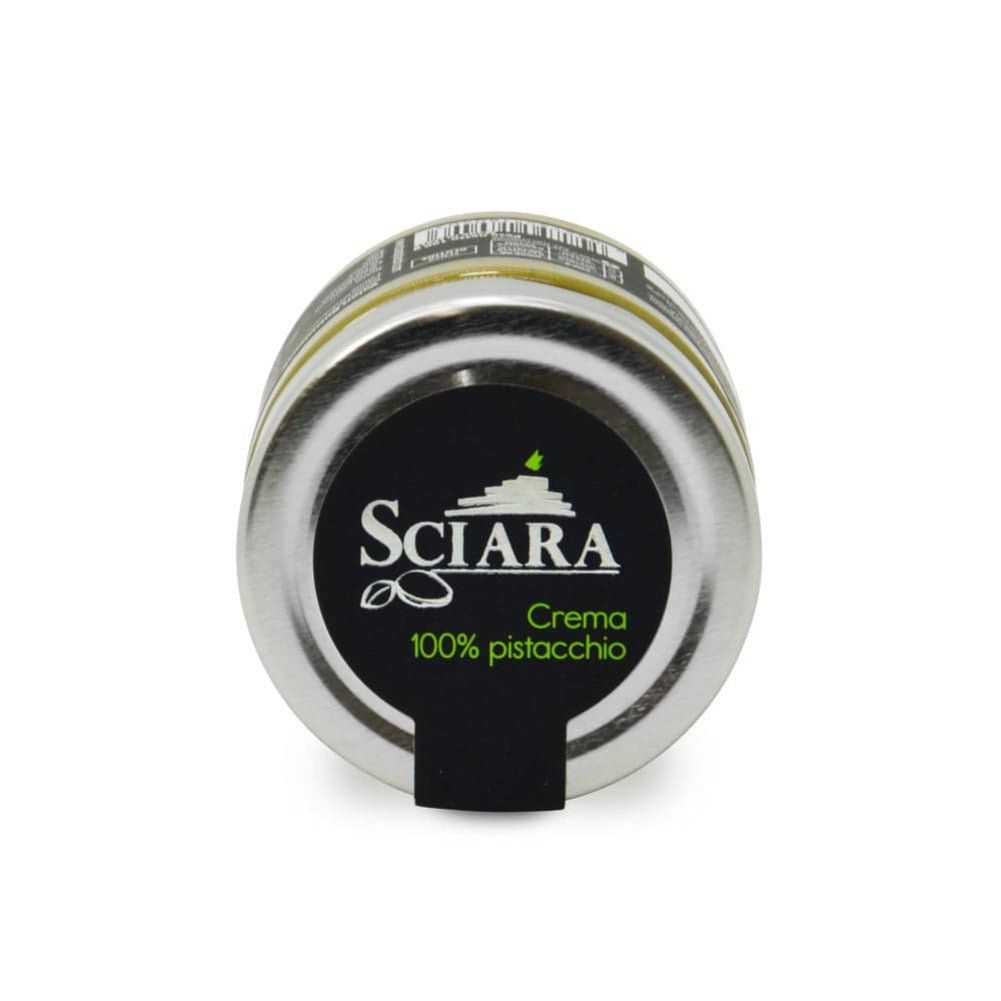 Always the best shipping conditions

Shipping in Italy is free from €39. For smaller expenses, the rate is €5.90. For shipments abroad, the system will propose the best available rates

Never lose sight of your package

Shipping from our warehouse normally takes place within 1-2 days of ordering. Our system will constantly update you, via email or sms, on the status of the delivery

Doubts or problems? We are always there!

For any question or inconvenience, enter your data and your request in the contact form . You will be contacted as soon as possible by our operators